Virginia Waterfalls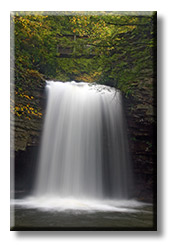 Upper Falls of the
Little Stoney
Virginia is for lovers...
Waterfall lovers, that is.
Below is a list of Virginia waterfalls that I have visited at some point. Each waterfall page will have detailed information (when available) and pictures. The detailed information includes my own personal rating, GPS location, topographic maps, hike detail, and specific waterfall photo tips.
Oh, and how to get there of course.
Waterfall Finder App for Android
---
Waterfall-Picture-Guide is excited to now offer our own free android app (sorry i-people) that installs in seconds and gives you an on-the-go waterfall reference for finding and researching waterfalls near you. The waterfall database is searchable with mapping and navigation features. There are several states currently in the database, including Virginia, with more on the way. Here is the free waterfall finder app! You can also download the ad-free version here.
Resources
---
There are only a few good resources for Virginia waterfall information that you should know about. Drum roll, please. In no particular order:
If you think your site deserves a listing, give me a buzz.