Straight Branch Falls
Damascus, Washington, Virginia
---
---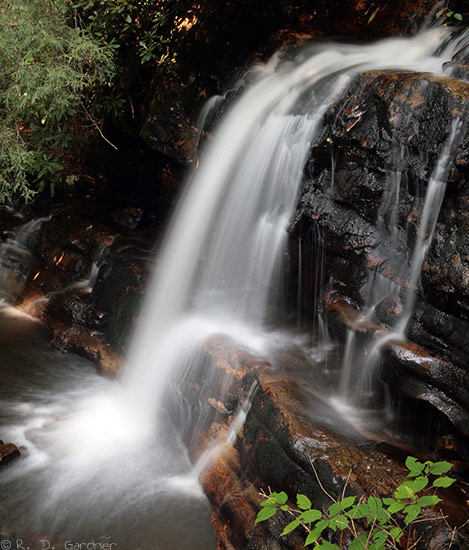 Straight Branch Falls

(8/07/2007, 33 mm, f/22, 2 sec, ISO 100)

Description
---
Straight Branch Falls received a 6 rating simply because it was an unexpected delight. Right next to the highway, US-58, but not visible from the road the waterfall is a little gem.
There are numerous points to photograph Straight Branch Creek as it parallels US-58 for several miles on the way down the mountain towards Damascus, VA. Cascades and small drops are in abundance and I'm hopeful to come back next Spring.
This waterfall also has a nearby geocache and is one of the eighteen in the Fallin' for Virginia Waterfalls series.
Also nearby is both the popular Creeper Trail and the Appalachian Trail. Outdoor adventure does abound in the area. Between Whitetop and Damascus, Virginia, the Creeper Trail follows several cascading mountain streams that can be quite photogenic at times. Whitetop Laurel Falls is accessed via the Creeper Trail.
While I'm at it, let me mention a few more waterfalls in the vicinity - Mock's Mill, Whitetop Laurel Falls, and Alvarado Rd Falls.
Getting There
---
From Damascus, VA, take US-58 East for somewhere around 6 miles. If you see Feather Camp Rd or Bear Tree Gap Rd you've gone too far. Turn around and look at your GPS. You do have one, right?
The waterfall and a pullout will be on the left side of the road. There is no sign, no markings of any sort to indicate the location of the waterfall. But I think if you use your eyes and ears you'll be able to spot it.
Hike Details
---
None.
Photo Tips
---
There's a fairly wide area behind the guardrail for walking and setting up a tripod. Just don't let the really young ones over there.
To be honest, it was late in the day and I was tired so I picked what looked to be a really good angle and shot everything from there. I didn't do much scouting. Parking is slightly above the waterfall so I did see that the high angle was bad but I didn't walk down the shoulder of the highway in search of the perfect angle from below. The stream is not really accessible here except by a billy goat so I took the easy shoulder shot.
Use a polarizing filter for sure to help with glare on the water and rocks.
The time of day was around 5:30 pm. No sun issues and it was a sunny day. Because of the terrain just about any time but midday should be mostly or completely shady and fine for photography.
Yes, I think a tripod is necessary unless you visit in the Spring and there is heavy flow. Even then I would use a tripod. This waterfall begs for the silky smooth look.

Video
---
Here you go.
Return to top of Straight Branch Falls



By Randy Gardner, All content Copyright© 2006-2016, All rights reserved.
No unauthorized reproduction is allowed.
Pictures may be used for private use only with permission from author. Contact Us