Alvarado Road Falls
Alvarado, Washington, Virginia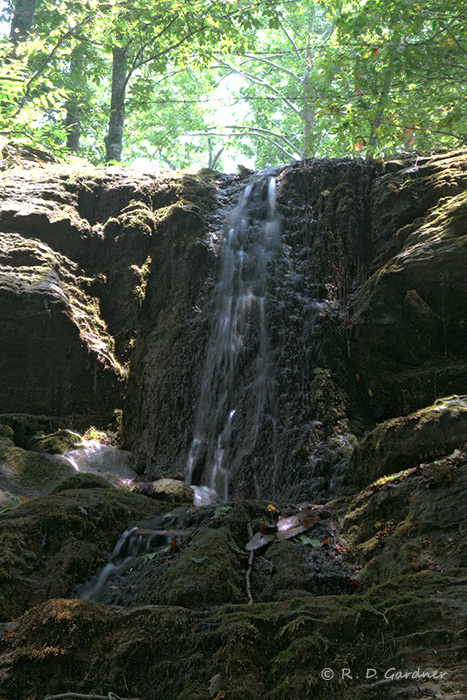 Alvarado Road Falls
(8/07/2007, 50 mm, f/22, 4 sec, ISO-100)
Description
Nothing to write home about on this day, Alvarado Road Falls was in a very low flow condition and not at all photogenic. Perhaps better in the Spring, this waterfall's only real draw is a nearby geocache, one of the eighteen in the Fallin' for Virginia Waterfalls series.
The picture above, although pretty bad, is actually a composite of two in an attempt to manage the high contract conditions - about 1:15 in the afternoon.
Also nearby is both the popular Creeper Trail and the Appalachian Trail. Outdoor adventure does abound in the area. Between Whitetop and Damascus, Virginia, the Creeper Trail follows several cascading mountain streams that can be quite photogenic at times. Whitetop Laurel Falls is accessed via the Creeper Trail.
While I'm at it, let me mention a few more waterfalls in the vicinity - Straight Branch Falls, Whitetop Laurel Falls, and Mock's Mill.
Don't let this little waterfall fool ya - the area is absolutely beautiful.
Getting There
Alvarado Road Falls is located on... let's see.... yes, that's right, Alvarado Road! From Abingdon, VA, take US-58 East to SR-711. Actually on US-58 there will be a sign that says "To 711". Turn RIGHT on this road just past a bridge and the road turns into SR-711. Follow this road for 0.6 miles to the waterfall. Just before the waterfall is a fork in the road. Bear RIGHT downhill and you'll see the waterfall on your left. Parking is very limited. There is a small pullout on the right just before a guardrail or you can turn around and park on the waterfall side (room for only one vehicle).
Use the following link to customize your own directions to Alvarado Road Falls.
Hike Details
Next to road.
Photo Tips
Have you seen my photo? Obviously I can't give you any advice.
Ok, I will anyway.
Don't do anything I did.
Don't get there in the middle of the day, and don't visit in the middle of Summer or probably in the Fall either.
Follow my "don'ts" and maybe you'll get a better picture than mine. Good luck.
Video
Here you go. 
Waterfall-Picture-Guide

›

Virginia Waterfalls

› Alvarado Road Falls
Like This Page?