Coon Den Falls

Dennis Cove, Carter, Tennessee
Coon Den Falls
(6/30/2006, 54 mm, f/29, 13 sec, ISO 100)
Description
This waterfall is of low volume but pretty high for a waterfall in this region.  Technically it is mostly a cascade as the water flows down a steep rock face and only free falls the last 10 feet or so.
I certainly wouldn't drive to Dennis Cove just for this waterfall, but if you have time between visiting one of the other waterfalls in the vicinity (such as Laurel Falls orDennis Cove Falls), it's worth a gander.
Getting There
Drive east on U.S. 321 out of Hampton, Tennessee for 0.8 miles.  Turn right onto Dennis Cove Rd.  The road is marked with a small, brown national forest campground sign but it's easy to miss.  It looks like you're turning into a residential area and you are.  Drive on through and the road will head up.
Be prepared for a winding mountain road.  I know.  You're shocked. 
About 4 miles from U.S. 321 will be a small parking area on the left side of the road for the Appalachian Trail and Laurel Falls.  The trailhead is 0.6 miles past this on the right.  There is no marked parking but if you look close you should spot the trail and blue blazes.  The trail is marked as CNF 37.  There is room on the right side of the road to pull over and park here.  If you reach the Dennis Cove Campground you've gone too far.  Turn around and go back about 0.2 miles.
Hike Details
It is a relatively short but steep hike at around 0.5 miles and 400 feet elevation gain.  The trail follows Coon Den Branch all the way.  About 0.1 miles before the falls you will come across another small waterfall of about 15 feet.  I bushwhacked down to it for a photograph.  It is the bottom left picture.
The elevation gain on the hike to Coon Den Falls was fairly steep at the end as you can see from the hike profile below.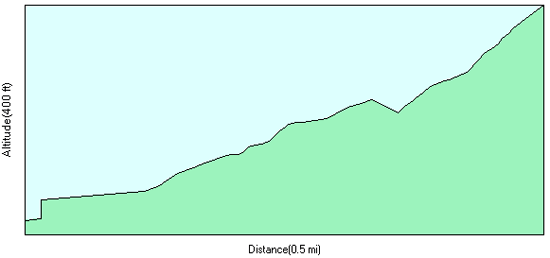 Photo Tips
This is a difficult waterfall to photograph.  You are right on top of the falls so photographing the entire length, especially the top half, is tricky.  Poor light conditions just exacerbated the issue.  An early morning trip here would be best.  I was there mid-afternoon and the sun was shining on the top 1/3 or so of the waterfall.
A normal-to-wide angle lens will be required as you are very close to the waterfall.
Good luck.
Waterfall-Picture-Guide

›

Tennessee Waterfalls

› Coon Den Falls
Like This Page?