Laurel Falls
Dennis Cove, Carter, TN
---
---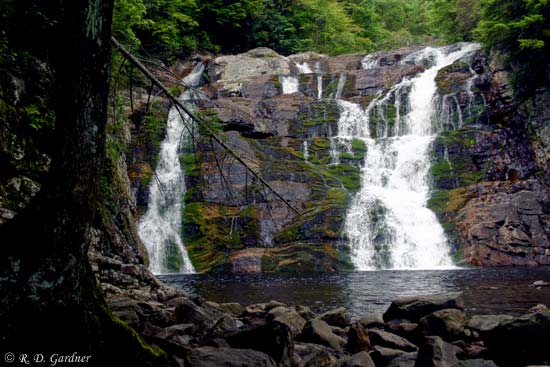 Laurel Falls
(09/03/2004, 34 mm, f/7.1, 1/60 sec, ISO 200)

Description
---
Laurel Fork and the falls is a great place to visit.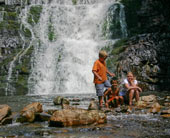 It has all of the right ingredients for a super family hike. The scenery is great with the trail mostly following the Laurel Fork. The hike itself is part of the Appalachian Trail and is more-or-less level for the first 1.0 mile as it uses an old railroad bed. The falls are large and impressive with plenty of room to have a picnic lunch and let the kids explore.
Laurel Falls is a very popular hike so try to go as early as possible to avoid the crowds.
Getting There
---
Drive east on U.S. 321 out of Hampton, Tennessee for 0.8 miles. Turn right onto Dennis Cove Rd. The road is marked with a small, brown national forest campground sign but it's easy to miss. It looks like you're turning into a residential area and you are. Drive on through and the road will head up.
Be prepared for a winding mountain road. I know. You're shocked.

About 4 miles from U.S. 321 will be a small parking area on the left side of the road for the Appalachian Trail. You can't miss it.
However, if by some fluke you do miss the trailhead you'll know it when you reach the Dennis Cove Campground. Turn your vehicle around and go back about 3/4 of a mile.
The trail to Laurel Falls is on the same side as the parking area and is easy to spot.
Use the following link to
customize your own directions to Laurel Falls
.

View Laurel Falls, Dennis Cove in a larger map
Hike Details
---
I consider this hike to be moderate only because the last 0.3 miles consists of a long series of steps descending down into the Laurel Fork Gorge to the base of the falls. You will want to take your time climbing out.
The first mile of the trail follows Laurel Fork along an old railroad bed and is a very enjoyable stroll. At one point there is a nice log bridge crossing the creek, thanks to the local trail maintainers of TEHCC.
The trail is marked with white blazes because it's the AT. As you turn left to go down the gorge to the falls the trail looks like it continues straight ahead. However, this is only a spur trail, noted by the blue blazes.
FREE TIP:
Keep an eye out for an unmarked trail on the left between the rhododendrons. I'll check the mileage next time I'm there. It's somewhere around 0.5 miles into the hike. Follow the trail up a slight rise and you should be able to hear another waterfall. It's a steep climb down to it, but a nice little bonus on this great hike. Two separate drops for a total of about 25'. I think it may be Middle Laurel Falls. (to be verified soon)
Photo Tips
---
The pictures shown here were taken at what I consider to be lower flow conditions. You can see higher flow pictures of Laurel Falls on Bill Stowell's website.
I have always managed to be at the falls in the middle of the day. Yes, I routinely break my own rules. Unfortunately, the sun has also been out and my pictures have suffered as a result. These falls are not well protected from direct sunlight so if you want great pictures, plan to get there early, late, or wait for a rainy, overcast day.
Plan on keeping the sky out of any pictures of these falls. It just doesn't work here.
As far as composition, all I can tell you is to play around. I'm still hunting for the best angle myself. I have several ok pictures but nothing great yet. Use the trees to frame the falls and even try some shots through or between the trees.
As far as shutter speed goes, this is another waterfall where both fast and slow shutter speeds can work well. It's a matter of personal preference. You can look at the camera tripod page to see the effect of various shutter speeds.
Try both horizontal and vertical compositions. I used a polarizer (as always) and a tripod.
Video
---
Here you go.