Mingo Falls
Cherokee Indian Reservation(Qualla Boundary), NC
Mingo Falls (7/10/2013, 33 mm, f/22, 2.0 sec, ISO-100 hi res photo)

Description
Mingo Falls is just great.  The trail is short.  The view is up-close and beautiful.  The waterfall itself is the tallest in or near the Great Smoky Mountains National Park. I gave it a high rating because it is tall and beautiful.
If you are anywhere near Cherokee, N.C. there is absolutely no reason NOT to visit this waterfall.
Getting There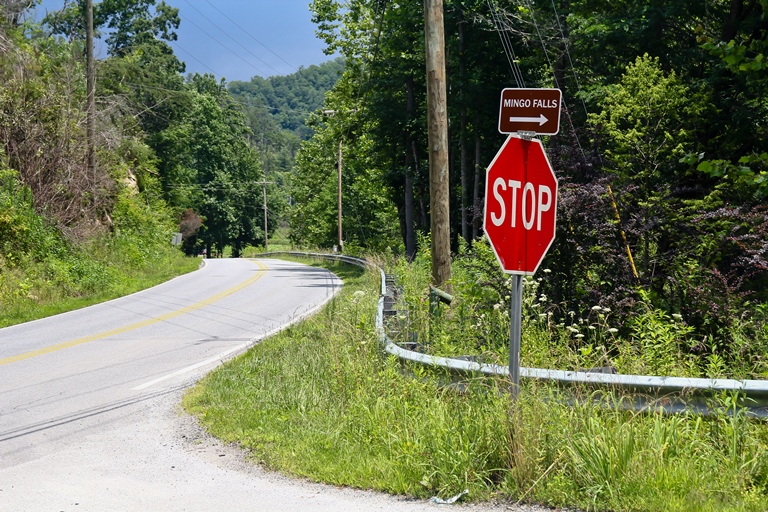 Turn here!
I'll be honest.  We had trouble finding the parking for the waterfall.  There's a sign on Big Cove Road that looks like an arrow to turn right at a little road.  Don't do it.  Stay on Big Cove Road until you see the parking area on the right just across the bridge.  There is also a small, brown sign for the waterfall as seen in the picture to the right.  It will be right at 1.0 mile past the entrance to the KOA campground.  I also recorded the following GPS coordinates for the parking area for easy navigation:
35.53394, -83.27624
Use the following link to customize your own directions to Mingo Falls or just click through the map below.
Hike Details
The trail is easy to see at the end of the parking area going up the hill.  It starts with a fairly steep climb of 160 steps by my reckoning and then flattens out for the last bit.  Take your time and you'll be fine.  There are no side trails.  You can't get lost.
Photo Tips
Canopy is open and the waterfall faces westward so mid-day photos until very late will have issues unless it is a heavy overcast. 
The primary view is from the bridge.  It's a good view but be aware that heavy people can shake the bridge and mess up your time exposures.  Expect many people.  You may have to be patient for the best conditions.
Use  a polarizing filter to reduce glare on the tree leaves and always use a tripod.
A wide angle lens will also be required due to proximity to the waterfall.
Heavy rains had increased the water flow significantly.  This was causing a fine mist as well as a natural wind to blow the foliage around the base of the waterfall.  Essentially all of my photos had blurred foliage.  Not good.  Mingo Falls is another waterfall where moderate flow is best, not too much and not too little.

Video
Here you go. 
Waterfall-Picture-Guide

›

North Carolina Waterfalls

› Mingo Falls
Like This Page?