Falls of Cambell Creek, Nelson County, VA
by Bob Perri
(Lynchburg, VA)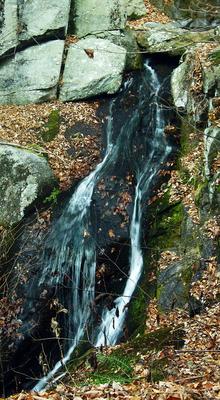 Waterfall Along Cambell Creek
As Cambell Creek flows down the Three Ridges Mountain's rocky terrain, it forms a bunch of cascades including a nice 40 foot fall at the end.

How to get there:
Take 56 West into the Blue Ridge Mountains, as if you were going to Crabtree falls. Look for AT Trail head on your right, and park there.
Cross the road and follow the AT North up to Three Ridges Mountain. After a couple of miles, you'll get to an intersection of the Maur-Har Trail. Take the Maur-Har Trail. Hike a little bit and keep your ears open for Cambell Creek. The trail eventually follows the Creek. You should see a sign to take you to the big waterfall. But also continue up the trail for some really nice smaller cascades and kettles.

Warnings:
Maur-Har trail is a really tough trail. So be in shape!
Also this one is really important, The big waterfall viewing area is a dangerous location! Be very careful, though there might look to be better vantage points, the ground is very steep, and the soil is very loose. Use your best judgement.

Alternate routes:
Lots of people like to connect this hike with AT trail at Maupin Shelter. This creates the Three Ridges Loop. And is one of the best weekend overnight backpacking trips in VA. I usually will hike up Three Ridges on the AT and camp at the Maupin. And, then the next day take the Maur-Har down and reconnect with AT and head back to my car. It's great, you get nice mountain views one day and pretty waterfall views the next.
Join in and write your own page! It's easy to do. How? Simply click here to return to Submit Virginia Waterfalls.
Like This Page?