Fall Branch Falls

Fall Branch, Washington, Tennessee
Fall Branch Falls (7/11/2006, 22 mm, f/22, 6 sec, ISO 100) hi res photo)

Description
Fall Branch Falls was an unexpected delight in the middle of farm country, thus the waterfall received a 6 rating.  It is quite a pretty little spot, easy to reach, only about 3 miles off of Interstate 81 in NE Tennessee.
Please note that the waterfall is on private land.  See comments below.
Getting There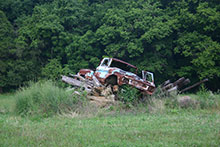 From I-81, take Exit 50 and follow US-93 North to Fall Branch.
From Fall Branch, TN, take US-93 North out of town for less than 1 mile. After going down a hill, you will need to take a hard right onto the Old Horton Hwy, also marked as Baileyton Rd.
The waterfall will be on your left across a field.  The field you need to cross has a truck on it as shown in the photo here.  It is easy to spot.  This waterfall is on private property so ask for permission to visit.
Hike Details
Cross the field.  It's level ground, about 1/4 mile round trip.  However, a small creek parallels the road and you will need to cross it.  Finding a place across without getting wet feet may be a chore.
Photo Tips
I experimented with several different compositions but actually like the standard frontal angle better than most.  Included in the pictures to the left is a side view that I also liked.  The only composition I would shoot on my next visit would be a landscape view zoomed out to get more foliage and to have a photo that works better as a background or for a calendar.
It was overcast so I didn't have light issues.  It was also late in the day, thus my 6 second exposure on the main photograph above.  Since the waterfall faces north one should have a fairly broad time range for good light in the mornings and evenings.
Use a polarizing filter for sure to help with glare on the water and the lush, greenery. 
Yes, I think a tripod is necessary unless you visit in the Spring and there is heavy flow.  Even then I would use a tripod.  This waterfall begs for the silky smooth look
Waterfall-Picture-Guide

›

Tennessee Waterfalls

› Fall Branch Falls
Like This Page?