Bridal Veil Falls
Nantahala National Forest, Highlands, Macon, NC
Bridal Veil Falls (6/21/2013, 21 mm, f/22, 0.8 sec, ISO-100 hi res photo)

Description
Bridal Veil Falls is truly a unique experience.   Forget walking behind it.  You can actually drive behind this waterfall! 
Yep, never done that before.
Simply put, visiting this waterfall is a must just for the photo op it provides.
The watershed is small so you will likely be a little disappointed in the magnitude of the falls if you visit during the dry season so plan or adjust your expectations accordingly.  My photos were in June but the weather had been very wet.
Much better than Bridal Veil Falls, another roadside waterfall just up the road is Dry Falls.  Do the photo op at Bridal Veil and then spend some quality time at this one.  Check out my page for more information and waterfall photos.
Getting There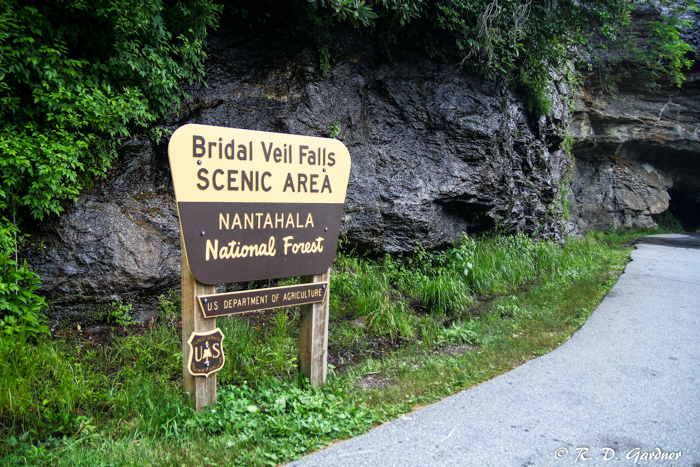 From the junction of U.S. 64 and NC 106 in Highlands, NC take U.S. 64 north (or west) for 2.3 miles.  You can't miss it.  The main highway used to go underneath the waterfall but it now goes around it to the left.
Use the following link to customize your own directions to Bridal Veil Falls or just click through the map below.
Hike Details
No hike.
Photo Tips
Not much room due to the highway.  Please, if taking pictures from the far side of the road, be mindful of traffic and make sure the tripod legs are out of the road and behind the guardrail.  There is a ton of traffic on the highway during the summertime.
Because of proximity, a wide angle lens is a must.  The only exception is the close-up I took of the "splash zone", or base, of the waterfall as can be seen in the last photo on the right.  Even then the focal length was only 50 mm.
The waterfall is really exposed so the sun is not your friend.  Again, best photos are taken early or late or on an overcast day.  When travelling you usually take what you can get.
The wet rocks are begging for a polarizing filter to reduce glare so don't leave that essential tool at home!
A slow shutter speed is recommended by using a tripod since this waterfall is small.  For more information on proper waterfall photography, go to my waterfall photography page.
Video
Here you go. 
Waterfall-Picture-Guide

›

North Carolina Waterfalls

› Bridal Veil Falls
Like This Page?