Step Falls
Newry, Oxford, Maine
---
---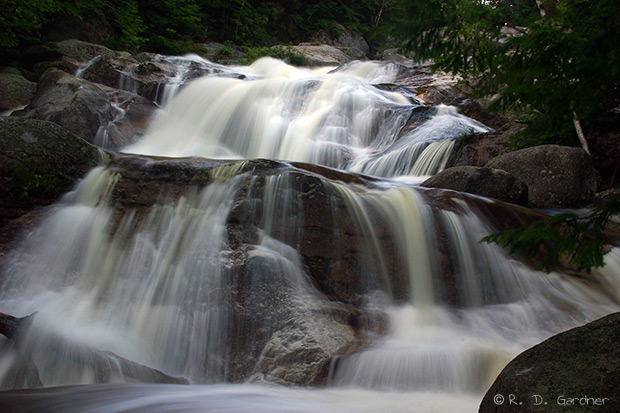 Step Falls
(8/3/2006, 38 mm, f/29, 1 sec, ISO 100)

Description
---
So it's been more than three years now since I visited Step Falls. I arrived late in the day after first visiting nearby Screw Auger Falls and Mother Walker Falls in Grafton Notch State Park. Because of my late arrival I didn't have much time to explore or linger around the many cascades.
And yes, there are many cascades or "steps" to this waterfall. The one pictured above is the largest of them. There are different numbers out there regarding the total elevation drop for the waterfall, anywhere from 160 ft. to 250 ft. plus. I tend to believe the smaller number.
Step Falls Preserve is quite nice. At any other time I could've spent hours exploring and photographing the different cascades and angles. Note that there aren't any facilities here, at least not three years ago, but there is always nearby Grafton Notch State Park.
The preserve is well worth a visit. I consider it family friendly and enjoyable for the whole family, with only a short hike to the first cascades and moss covered trees.
Getting There
---
Take Route 2/26 north out of Bethel, Maine and turn left on Route 26 when it splits towards Grafton Notch State Park. About 1/2 mile before entering the state park the highway crosses Wight Brook. Before crossing the bridge there is parking in the field on the right. This is part of the preserve and the expected place for parking, although it wasn't well marked a few years ago.
Use the following link to customize your own directions to Step Falls.

View Step Falls in a larger map
Hike Details
---
The trail starts at the parking area and meanders upstream. It is uphill obviously but only about 1/4 mile to the top of the falls the best of my recollection. Also note that the area is quite damp and the Maine state bird (mosquito) WILL be present. Details about the preserve along with a park map can be found here.
Photo Tips
---
This is a great place for playing with close-ups of cascading water. There are no distant views of the waterfall. It is all "up close and personal" so to speak, so you will need a wide angle lens.
Sun exposure will be a problem most of the day. However, the waterfall is on the north face of the hill so it will get a fair amount of shade, especially during the winter months. I would love to see some pictures of this place in the winter time. I expect the Fall colors are fabulous here as well.
You will need a good tripod to get long exposures. This brook and water volume is not large enough to look good with fast shutter speeds. Slower will be better.
As always I recommend the use of a polarizer to cut down on reflections (ok, by now you should be leaving that polarizer on your camera all the time, right?). You will need to correct the color cast of the polarizer either with a warming filter or with post processing with a program like Photoshop.
Composition - There are infinite possibilities here. I didn't have much time to play. Try crossing the creek and shooting from the far side. Use some of the nearby trees for framing or foreground. Try both landscape and portrait. Have fun!