Snow Falls
W. Paris, Oxford, Maine
---
---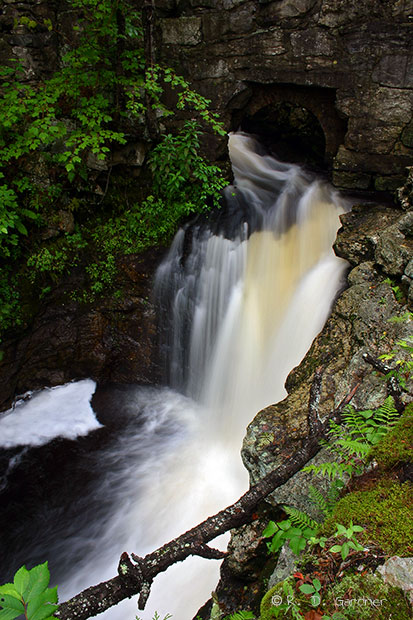 Snow Falls
(8/3/2006, 18 mm, f/22, 1 sec, ISO 100)

Description
---
This waterfall was a total surprise.
My wife and I were driving up to Bethel, Maine on Route 26 and saw the sign for this rest area. There is a picnic area and rest rooms, and the dangerous areas near the edge of the water/gorge are fenced off so the little kids won't go floating downriver.
Snow Falls has some character with the upper portion (see pic bottom left) being like a flume and the bottom portion (pic above) a standard plunge. While not terribly impressive, The volume of flow from the Little Androscoggin River is enough to make this a "must stop" item on the itinerary if you're in the area. Obviously it's a great place for a picnic.
Getting There
---
Take Route 26 north out of South Paris, Maine and look for the rest area sign. It is right at 6 miles north of the intersection of Routes 26 and 119 in South Paris or 2 miles south of Trap Corner, ME. Rest area will be on your left as you travel north.
Use the following link to customize your own directions to Snow Falls.

View Snow Falls in a larger map
Hike Details
---
No hike. Yippee!
Photo Tips
---
Sun exposure will be a problem most of the day. There is really no avoiding it here except to pray for clouds or arrive very early/late in the day.
You will need a good tripod to get long exposures. At higher flows you may want to play with faster shutter speeds with Snow Falls.
As always I recommend the use of a polarizer to cut down on reflections, expecially with all the granite in the state.
Composition - There are many possibilities here but you will be limited by space and fences. In general you will need a wide angle lens because you'll be working very close to your subject.