Kiner Creek Falls
Laurel Run Park, Hawkins, Tennessee
---
---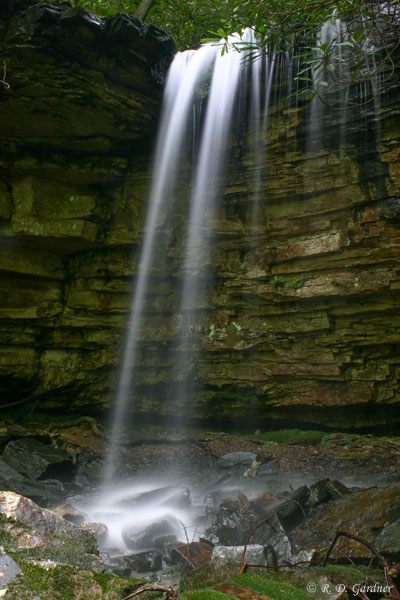 Kiner Creek Falls

(5/6/2006, 27 mm, f/29, 15 sec, ISO 200)

Description
---
This nice little waterfall is located about 1/4 mile past Laurel Run Falls out of... you guessed it, Laurel Run Park. Many people miss this waterfall because there is no clearly marked trail to it at this time. More on that below.
On its own merit this waterfall might not rate a 2 mile hike, but combined with Laurel Run falls (which you pass on the way up) this is a great outing.
Kiner Creek has a very small watershed so don't expect much flow in the summertime. My visit was on May 6th and we had a decent rain a couple of days earlier. From the picture you can see that Kiner Creek Falls may all but disappear in the hot, dry months.
Even so, if you visit Laurel Run Falls a short hike up Kiner Creek is a no-brainer.
Kiner Creek Falls is located in a very secluded grotto. The approach is up the creek, literally, and as you near the falls, the climb goes over and through rocks and debris until you suddenly emerge into the grotto.
I thought it was pretty cool.
Getting There
---
Laurel Run Park is located just to the west of Kingsport, TN. Directions can be obtained from this website on Tennessee vacations. It is well marked with signs at every intersection. Take 11W west out of Kingsport and turn left at the traffic light on the other side of Church Hill. There will be a sign. After turning, the road will cross the Holston River. Look for another sign and turn left. After that, the road will loosely follow the river to the park. There may be one more intersection where you should bear left.
Hike Details
---
First you hike to Laurel Run Falls.
The trailhead is at the back of the park.
Essentially, find Laurel Run Creek and follow it.

Don't follow the marked trail!
Ok, that sounds weird but it's true. Your best bet is to follow the old access road along the creek when leaving the park. The trail will eventually tie back into the larger path after doing some excessive up-and-down stuff.
Don't worry, you can't get lost. You're just following the creek after all.
There are a couple of stream crossings. I was told that wading would be required. Under higher flow conditions I would agree. The day I visited, my sons and I were able to take the first crossing on an old 1x8 board and the second crossing was done by rock hopping.
The elevation gain on the hike to Laurel Run Falls was gradual and not excessive. See the hike profile below.
The hike is through a very pretty area, quite reminiscent of the Great Smokey Mountain National Park. Rhododendrons abound on this hike so it's especially pretty during their bloom.
Ok, you've stopped at the first waterfall and taken some incredible photos. Now you're ready to find Kiner Creek Falls.
Get back on the trail and head on up the trail. At the switchback you will see Kiner Creek right in front of you. Cross the creek here and continue on by following the creek. The dense rhododendron underbrush has been partially cleared for what looks like a rough trail along the bank. Follow it up to the waterfall. This leg of the hike is short, maybe 1/4 mile or less with an additional elevation gain of about 80 feet.
Photo Tips
---
Not so fortunate this time, the sun caused problems the day I was there.
Morning would be the preferred time to visit and photograph. Late afternoon/evening would be ok. I was there around 4:00 pm. Not good.
In general the grotto and waterfall are secluded and well protected by the steep terrain. In fact there is an abundance of wet weather foliage - mosses, ferns, and other lush groundcover around part of the grotto. But the grotto is like a hole with no protection directly overhead. I had to wait for clouds to pass in front of the sun to take pictures. And with long exposures this can be tricky.
Also, there is little room to back up and take a picture. Expect to use a wide angle lens.
As with many waterfall without a tripod you will be sorely disappointed in how your pictures turn out. In this case a long shutter speed helps make Kiner Creek Falls look bigger. I would recommend at least a 5 second shutter speed.
Video
---
Here you go.
Return to top of Kiner Creek Falls



By Randy Gardner, All content Copyright© 2006-2016, All rights reserved.
No unauthorized reproduction is allowed.
Pictures may be used for private use only with permission from author. Contact Us