Glen Ellis Falls
Pinkham Notch, Coos, New Hampshire
---
---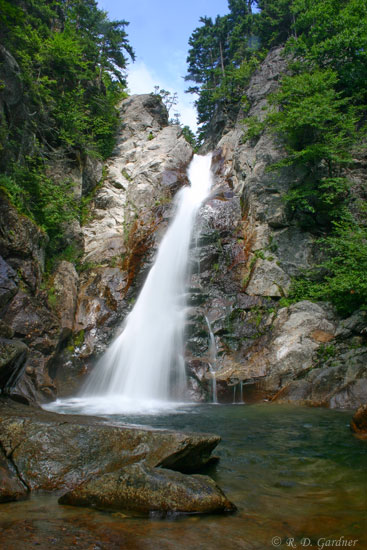 Glen Ellis Falls

(7/31/2005, 18 mm, f/22, 1/5 sec, ISO 100)

Description
---
This is another great and easily accessible waterfall in the beautiful state of New Hampshire.
The Ellis River has carved a bit of a flume into the granite at the top of the waterfall before mostly freefalling to the base.
The waterfall is certainly powerful. I was there in a normally low flow time of the year so I can only imagine the pounding sound and spray one would find in the Spring and Winter seasons.
There is also another great waterfall nearby - Crystal Cascade. The hike for Crystal Cascade is a short 0.6 miles round trip and is well worth the small effort.
Both waterfalls are extremely accessible and highly recommended if you're in the area.
Getting There
---
Glen Ellis Falls is located next to Route 16 just north of the AMC Pinkham Notch Visitor Center parking lot. Great directions to the visitor center can be found on the Appalachian Mountain Club website. There is a very well marked parking area for the waterfall on the west side of the highway.
Hike Details
---
This is a short walk from the parking area. The path goes underneath Route 16 via a tunnel and then turns downhill. A series of rock steps will take you to the base of the falls.
Photo Tips
---
The main problem here is light. There is too much of it. If possible try to get here early or on an overcast day. The sky also peeks through above the waterfall and is almost impossible to eliminate. If it is sunny or a bright overcast day, try bracketing your exposure. You can blend the photos together later.
A polarizer is a must at this waterfall. The water spray keeps the rocks wet and shiny all around. The polarizer will cut out the glare on the rocks as well as the reflection on the pool. The water color here is fabulous.
Choices on composition are few. To your left as you face Glen Ellis Falls is the side of the mountain with no points for shooting. To your right is the Ellis River and several more small drops in the river. There might be some good angles on the far side but the crossing would be dangerous and not recommended. It would be better to cross somewhere downstream and hike back up if that is even possible.
Shutter speed? This one is personal preference. I tried both fast and slow shutter speeds but personally preferred the slower ones. For slower speeds you will need a tripod.
Return to top of Glen Ellis Falls



By Randy Gardner, All content Copyright© 2006-2016, All rights reserved.
No unauthorized reproduction is allowed.
Pictures may be used for private use only with permission from author. Contact Us